Here we have a 70s soul-funk classic. I love the soul rhythm guitar style: it's all about perfectly formed, groovy parts rather than anything too technical. And this song is a great example of just that. According to my research, guitar on this song was performed by a certain Willie 'Little Beaver' Hale – not name I'd come across the name before, but what a player! He's made a lot of great records as a session player, and I've just been checking out a couple of his solo albums from the 70s which are fantastic. (A nice Beaver interview here too.)
The original recording sounds like this:
And check out this TV performance with Little Beaver on guitar. Shame he has his back to the camera for the entire video, but you can see the position where he's playing those chords for the main riff.
I've written the music out below. We have the three main riffs which are played simultaneously on the record (Little Beaver on all guitar parts? Not sure) and then we have the chords for the B-section. Download the tab here.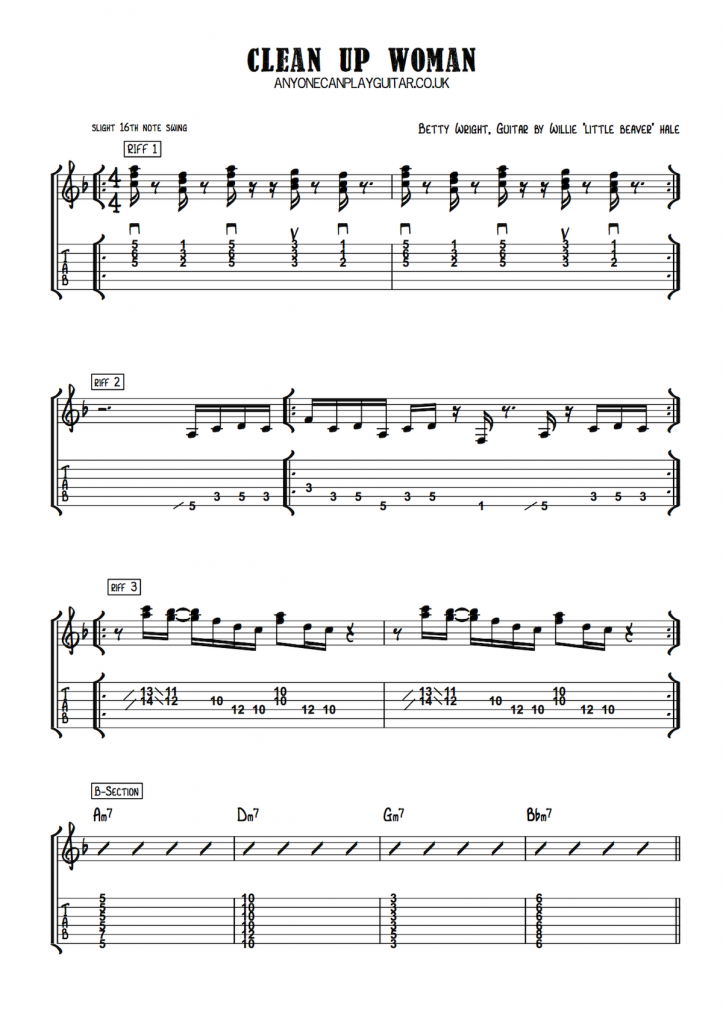 Get The Sound
I'm not sure what gear Little Beaver would have used on the original. And what guitar is he playing on the video above – any ideas? My first thoughts were to use my Tele for this kind of song, but that didn't sound quite right as the tone on the original is quite warm and full sounding. So in the end I went for  my Vox Virage guitar which has flat wound strings on it. Also, a Wampler Tumulus overdrive pedal with the gain all the way off. And my 80s Fender Super Champ amp. My looper pedal is a basic TC Electronic Ditto.
Other Lessons You Might Like
Soul Man – a very similar triad-based main riff in this Sam & Dave masterpiece.
Get Lucky – a modern day funky classic.