I first heard the name Robert Johnson in the film Crossroads, a 1986 masterpiece starring Ralph Macchio, which culminates in a guitar duel between teenage blues virtuoso Macchio and the devil in the form of a shredding Steve Vai. Up to that point I'd been listening mainly to things like Iron Maiden and Ozzy Osbourne, so when I went out and bought a copy of King of the Delta Blues Singers it opened up a quite different world.
For me, the Johnson guitar style has always been very hard to emulate. His songs are technically challenging and also full idiosyncrasies which can make learning them note-for-note a tough task. So what I've tried to do in this lesson is to give you a way into the Johnson style in the form of a reasonably approachable piece. If you mange to get this together then you'll be in a strong position to tackle some real RJ songs in an authentic way.
Steady Bass Fingerstyle Exercises
If you've never tried this kind of thing before then I'd suggest trying a few of these basic exercises to develop a bit of independence between your thumb and fingers before tackling the piece itself. These are the examples I cover in the video: the thumb plays the A string throughout whilst the fingers play the D G and B strings.
Here's the entire piece as I play it in the video. To download a high-quality printable PDF click here.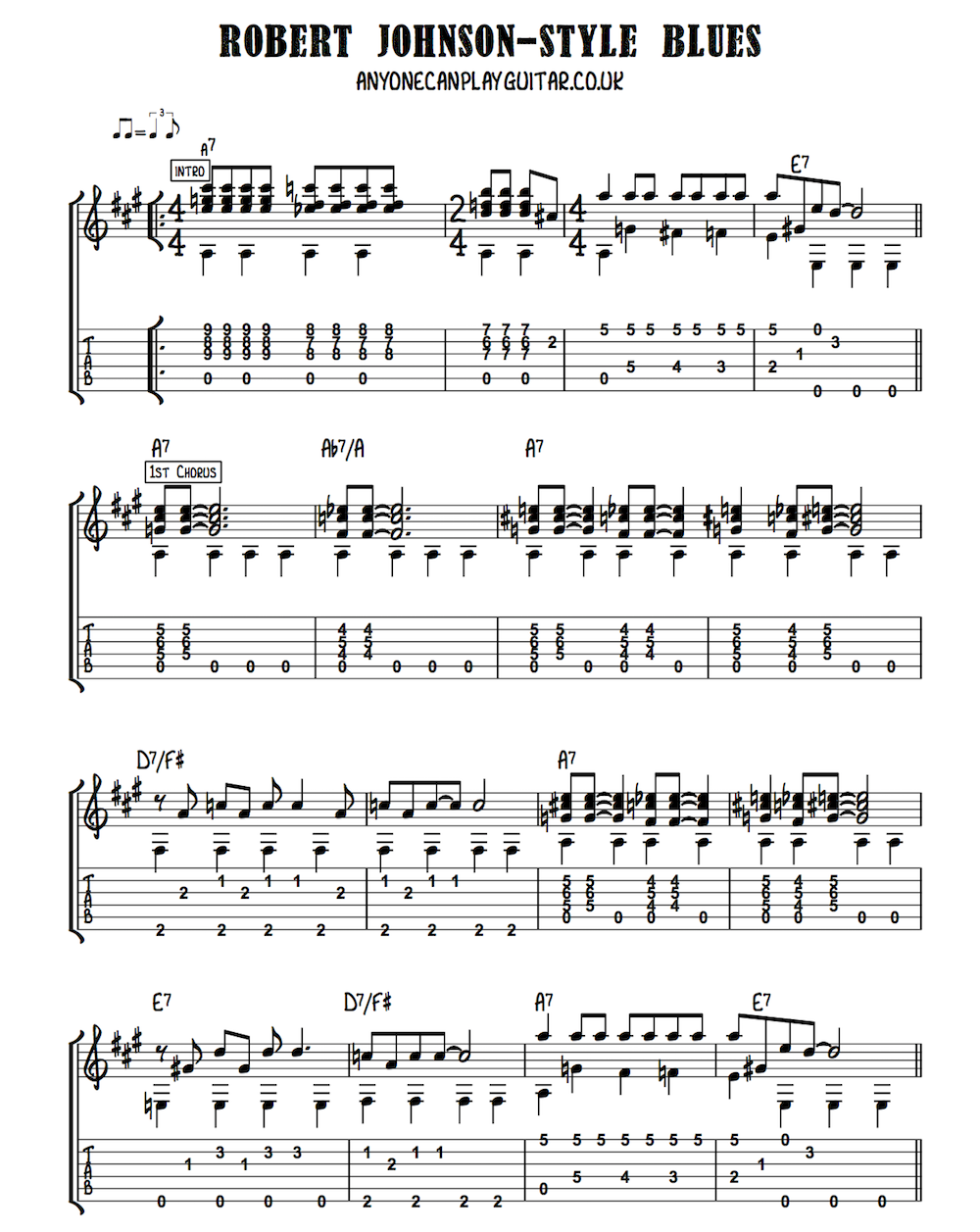 Where next?
I'm going to try and film a couple of more advanced blues fingerstyle lessons over the coming weeks, so you might like to check those out. And why not try having go at the real thing? Most of Johnson's standard tuning pieces contain similar elements to this piece. Kind-Hearted Woman Blues, 32-20 Blues or Dead shrimp Blues would all be worth checking out.
More Fingerstyle?
If you enjoyed this lesson why not check out some of my other acoustic fingerstyle videos.
Here's a lesson on Davey Graham's classic Anji.
Or maybe try learning to play Elisabeth Cotten's  fingerstyle standard Freight Train?